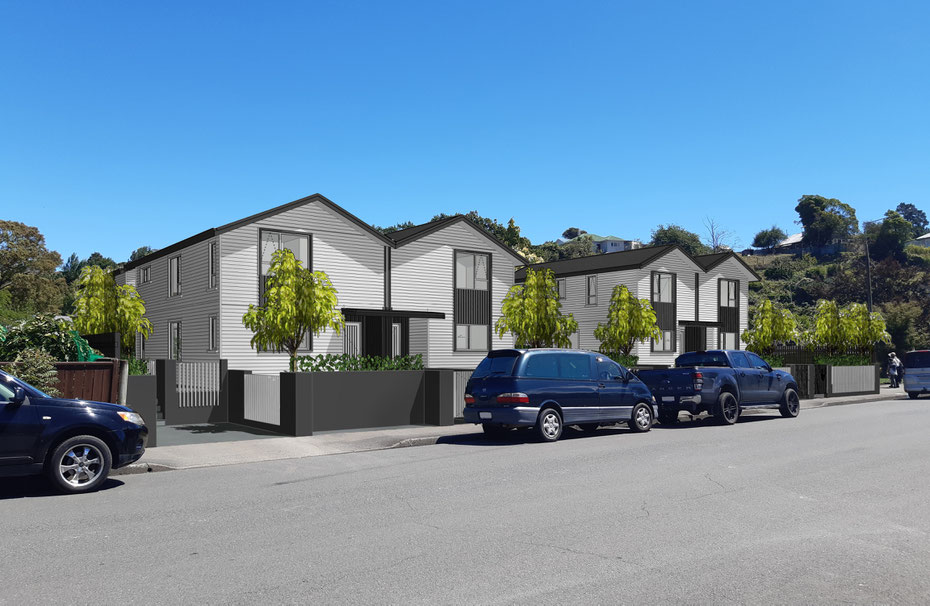 We are delighted to announce that we've signed a contract to buy two properties in Totara St, Nelson, on which we plan to build six new rental homes. The sites at 6 and 8 Totara St are being sold by the Nelson City Council. Each section currently has a single old house on it.
Our plan is to redevelop these adjoining sections and build a mix of two, three and four-bedroom homes (see image above). NTHT director Carrie Mozena says this is a great location for families, close to the Victory Community Centre, schools, parks and transport routes. The trust is working to secure a funding agreement with the Ministry for Housing and Development for this project and construction is expected to start in 2023.
The council bought the sites in the 1990s for the potential relocation of Victory Kindergarten in the event that the Southern Link road progressed. However, it decided they were no longer needed after endorsing the Nelson Future Access business case last year, which focuses on priority lanes on Waimea Rd and Tahunanui Dr instead. The sites were sold for the land valuation of $715,000.
Deputy Mayor Judene Edgar, who chairs the council's Urban Development Subcommittee, said the sale responded to a pressing need for more affordable housing in Nelson. "We are one of the least affordable regions in the country for housing, with wages less than the national average, so being able to provide secure housing close to schools, shops and services is important".
You can read more about the land purchase in these media articles - RNZ, Nelson App, Stuff.